Meet some of the dual class improvisor-gamers who have taught our workshops over the years!
Karen Twelves
took her first improv class in 2008 and has been gaming since high school. She has performed with multiple troupes in the Bay Area and gamed at cons from coast to coast. She teaches for theater companies in the California Bay Area, corporate workshops, and other events.
Karen is also a copy editor and has a blast working on games for awesome publishers like Evil Hat Productions, Bully Pulpit Games, Transhuman Studios, and Thorny Games. You can learn more about her love of language-wrangling at karentwelves.com or other nerdy projects at dtwelves.com.
She loves playing one-shot narrative games with epic wins and disastrous fails, and will tell you all about her Duelist character from a truly epic "Kingmaker" Pathfinder campaign.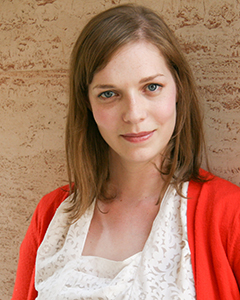 Mia Blankensop has performed improv for over a decade, taught since 2010, and studied under instructors from Gotham City Improv, and IO and is an Upright Citizens Brigade graduate. She was one of the founders of Oakland's fierce, all-women troupe Chick Flick and an ensemble member of Un-Scripted Theater Company. Mia was introduced to gaming by Karen in 2010 with her first RPG game ever: Burning Wheel. She has loved playing ever since and you can find her attending local cons with her very own dice bag.
She enjoys Apocalypse World, Monsterhearts, Fate, Pathfinder, and is always, always up for a good game of Fiasco.
Matthew Klein arrived at improv via roleplaying games. In 2008 he saw his beloved RPG hobby in a whole new light after experiencing story games at Go Play Northwest in Seattle. Humbled by the scene-setting and characterization skills on display, he enrolled at BATS Improv to learn the craft and was instantly hooked. He has performed on stage a few times but mostly uses improv on the job with teams (and comes running to co-facilitate Improv for Gamers when Karen whistles).
Matthew loves Apocalypse World and its various spin-offs, and any game John Harper or Bully Pulpit produces.
Jennifer B. Warner is from Tennessee and came to California for a theater internship in 2006. She has worked with Pan Theater in Oakland where she was a member of Awkward Face, and with Endgames Improv and the Mitch Green Show in San Francisco. She has also appeared as a guest performer in the Un-Scripted Theater Company and is a founding member of Chick Flick. Currently she is part of the Main Stage Cast at All Out Comedy Theater in Oakland.
Jennifer got into gaming a few years ago with a game of Fiasco and hasn't looked back, and is particularly fond of Monsterhearts.

Save